Workin' It Out
"Aural Skills for Bass Players - Level 1"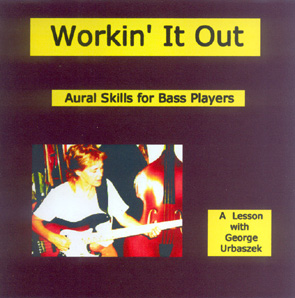 Workin' It Out, Level 1, is a 45-minute lesson in aural skills specifically for bass players requiring a stronger foundation in ear training leading undoubtedly to better playing skills. The lesson includes pitch visualization, note finding, workshopping played examples, bass riffs in different keys, chord recognition, finding chord roots, working out melodies, and working out bass lines from recordings and live performances.
The lesson provides a wealth of knowledge from bass player and music educator George Urbaszek who has over 3500 performances and 37 years of teaching and recording experience.
George guides you through the lesson in logical steps, revealing methods that will enable you to use your aural skills quickly, effectively and permanently.
This is the second in a series of ready-made bass lessons. These lessons are in response to requests from bass players around the world and are in addition to George's individualized audio-correspondence lessons and play-along CD titled The Feel of the Real Deal.
The cost of Workin' It Out is $35.00 Australian, incl. airmail pph. To purchase your copy of the CD, email for payment methods (credit cards accepted) and further details or click here to buy online now using PayPal.
Here are some samples in mp3 format from Groove Creation for Bass. These samples will give you a fair idea of the product quality. Please click the track descriptions to listen to samples.
Changing the order of notes and the ryhthm of "I Got You (I Feel Good)"
Rock groove with changing note lengths
Instant 16th funk shuffle
Combining two well-known riffs
Enjoy ... and Bass of Luck!
George Urbaszek, November 2013