Groove Creation for Bass
"The ultimate resource for creating bass grooves."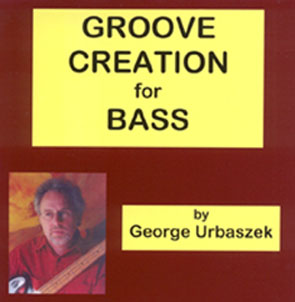 "Within the first minute listeners will gain valuable new ideas." Australian Musician magazine
The lesson provides a wealth of knowledge from bass player and music educator George Urbaszek who has over 3000 performances and 27 years of teaching and recording experience.
George guides you through the lesson in logical steps, revealing many methods to enable your own creativity. This lesson is guaranteed to enhance your musical life!
This is the first in a series of ready-made bass lessons. These lessons are in response to requests from bass players around the world and are in addition to George's individualized audio-correspondence lessons and play-along CD titled The Feel of the Real Deal.
Groove Creation for Bass is recorded with love of the groove and lots of preparation and perseverance. The value is truly excellent - it's like 8 lessons in one - and any funds generated through sales of George's products go straight back into further music education.
The cost of Groove Creation for Bass is $25.00 Australian, incl. airmail pph. To purchase your copy of the CD, email for payment methods (credit cards accepted) and further details or click here to buy online using PayPal.
Here are some samples in mp3 format from Groove Creation for Bass. Please click the track descriptions to listen to samples.
Changing the order of notes and the ryhthm of "I Got You (I Feel Good)"
Rock groove with changing note lengths
Instant 16th funk shuffle
Combining two well-known riffs
Enjoy ... and Bass of Luck!
George Urbaszek, November 2013